Hosts are:
Tales of a Ranting Ginger
,
The Knit Wit by Shair
, and featured guest
Multi-Testing Mommy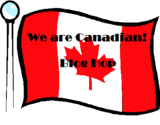 Rules:
1. Canadians Only! (Sorry American friends, we wanted to give the Canadians some love for this one.)
2. Follow the Co-hosts, and leave a comment so we will follow you back!
3. Follow the Featured Blogger, and leave a comment so they can follow you back!
*this post is not sponsored or endorsed, all content has been researched from the Canadian Blog Hop Hosts*